Pr. Jean-Baptiste Bun Prak Hong is the very first priest of the Phnong ethnic group… a joyful step for the Church.
Good news for the Church in Cambodia: it now has its first priest from the Phnong ethnic group!
Pr. Jean-Baptiste Bun Prak Hong was ordained on June 29 at St. John the Baptist Church in Busra, in the Pech Reada district of northeast Cambodia, more than 300 miles from the country's capital. The new priest is the tenth Cambodian priest to be called to serve in the three Catholic churches in Cambodia. jurisdictions (one apostolic vicariate and two apostolic prefectures). During the celebration, Bishop Olivier Schmitthaeusler (MEP), Apostolic Vicar of Phnom Penh, also announced the upcoming ordination of three new deacons to the priesthood in September.
EDA I Catholic Cambodia
"The proclamation of the Gospel in a remote region is taking shape," Bishop Olivier Schmitthaeusler said during the ordination Mass, adding, "A priest does not receive a mission or a responsibility as a simple job; his whole life is consecrated by Jesus Christ himself. He participates in the life of Jesus and he is a priest all his life. Prof. Bun Prak Hong said, "God called and elected me into his group of priests to serve him and the community. He blessed me through the bishop to give me strength to serve the Church in the future.
20,000 followers
The St. John the Baptist Community of Busra grew out of 15 Phnong families who converted to Christianity when they fled to Vietnam during Cambodia's civil war. They were converted and baptized by Fr. Jean Moriceau, a French missionary priest.
Later they returned to Cambodia, with 10 families settling in Busra and five families in the nearby Dak dam. Today the parish of Busra has more than 300 Catholics, most of whom are farmers. In this parish, a young woman also became a nun in the Congregation of Lovers of the Cross, a diocesan institute of nuns in Kampong Cham prefecture.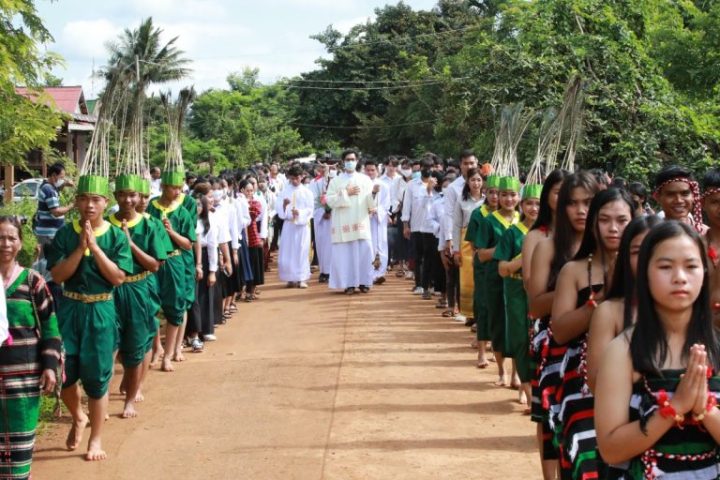 EDA I Catholic Cambodia
The Catholic Church in Cambodia was founded in 1555 by Portuguese missionary clergy. "This community grew little by little, but unfortunately, because of the civil war, especially during the genocidal regime of Pol Pot from 1975 to 1979, the community was practically destroyed, both in terms of people and infrastructure", report it Paris Foreign Missions (deputy). "All bishops, priests and clergy, as well as many lay Catholics, were killed and foreign missionaries were driven out of the country."
The Catholic community reformed after the war, with the return of missionaries in the 1990s. In 2001, four young Cambodians were ordained priests for the first time in Cambodia. "According to the local Church, vocations are increasing slowly but gradually, with the creation of groups to accompany the discernment of young Catholics with regular meetings, times for reflection and sharing," explains the MP. The Cambodian Church today has nearly 20,000 faithful, 10 Cambodian priests and 10 Khmer nuns.