[ad_1]
For more than 50 years, Baron Confectionery in Ħaż-Żabbar, Malta, makes pastries. Often they turn out flaky filled with ricotta or peas pastizzis Where figolli, colorful Easter candies. But at the end of October, their treats take on a more macabre allure.
għadam tal-mejtin (bones of dead men), or alternatively, għadam ta' Novembru (November Bones) are available not just here, but nationwide throughout November. These are edible memento mori, part of Malta's long-standing Month of the Dead celebrations.
Għadam look like big sugar cookies. They are usually large enough to share and traditionally each is uniquely gnarled, although some bakers now use cookie cutters to make them more even. The cracked batter is smoothed with a shiny white royal icing on top.
But the three-dimensional shapes of bones hold a secret. The vanilla exterior gives way to a center flavored with cardamom and clove, or even anise in some versions. This second dough, made with almond flour, crumbles at the first chewy bite.
These unexpected flavors owe a lot to Malta's geographical location. South of Sicily and flanked by Tunisia and Libya, the country has since time immemorial been a hotbed for traders and invaders. This, coupled with the fact that Malta is not rich in its own natural resources, means that many Maltese flavors have roots in the Arab world, North Africa and mainland Europe. The only major exception are the home-grown almonds that make the central "marrow" of the cookie so irresistibly different from the sweet "bone".
Marlene Zammit grew up near Sydney, Australia. But the blogger behind A Maltese bite can thank his two parents for introducing him to the rich culinary heritage of their native land. Her family considered Halloween, with its costumes and candy, "really more of a thing for the younger generation," she says.
Instead, they attended mass and prayed for the souls of the dead on All Saints Day, November 2. Although the Zammits are thousands of miles from their family's graves, the people of Malta celebrated by visiting the resting places of their loved ones, cleaning them, and leaving flowers and other mementos.
But Halloween has slowly become a presence in Malta. "People evolve and traditions change. It is a life situation. We believe this should not come at the expense of what makes us Maltese," says Kenneth Cassar. The senior curator of MUŻA, Malta's national art museum, is also a member of Taste History, a group of historians working to preserve the country's culinary traditions. The organization is part of Heritage Malta, the national agency that oversees museums and cultural sites on the islands.
In Malta, November is unofficially considered the month of the dead. Għadam tal-mejtin is part of the festivities and is available everywhere, from the bus station in Valletta, the main island's capital, to country pastry shops.
According to Cassar, it is difficult to trace the precise origins of għadam tal-mejtin, as historical references appear only in excerpts and there are very few historical books on Maltese cuisine. However, Zammit says his recipes for happy figolli and għadam tal-mejtin are nearly identical except for the aromatic spices and bone shapes of the latter. Could they be siblings? Cassar thinks this is likely, which means għadam tal-mejtin could date back to the 17th century, given that the first mention he found of figolli was from 1660.
But why were they created in the first place? "It's very typical of our way of life," Cassar says. "It's bound to fate." In other words, memento mori are everywhere. Throughout Malta, churches are decorated with skulls and skeletons. The most famous, St. John's Co-Cathedral in Valletta, features marble floors that depict skeletons doing everything from wielding a scythe to reading the scriptures.
Christianity has had a hold on Malta since the dawn of the religion, as evidenced by the many early Christian catacombs around the island nation, including St. Paul's Catacombs in Rabat. Even during Arab rule, from the 9th century until the Norman invasion in 1091, Christianity was never completely erased.
Cassar says that while the church has always encouraged people from all walks of life to do good deeds, the pressure was greatest around Nov. 2. Even children were traditionally called upon to pray for the spirits of the dead in purgatory and were rewarded with sweets for their efforts. The existence of bone-shaped treats could also reflect local practices. In addition to people visiting cemeteries, Cassar also recalls that churches once displayed empty coffins covered in black cloth in November to further remind attendees of the other side.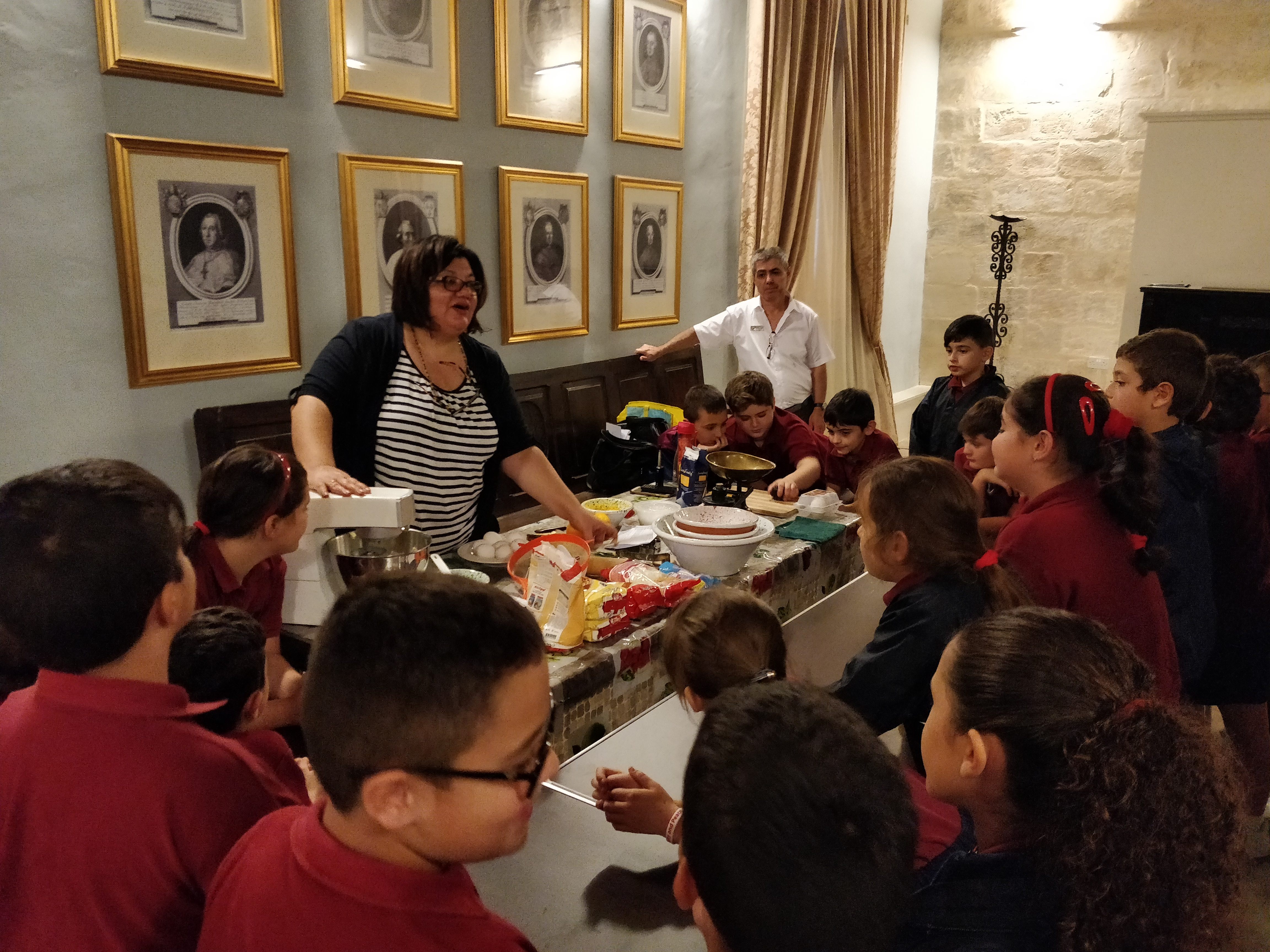 Cassar does not believe that these rites have pre-Christian roots, as they are strongly tied to Catholic doctrine. In some ways, the rituals are not so different from visits to the cemetery and pan de muerto the Día de los Muertos in Mexico and celebrations in other Catholic countries. But Malta's version has evolved in a unique way, thanks to its separation from the mainland.
November culinary traditions were not limited to għadam tal-mejtin. According to Cassar, as recently as the mid-20th century, some communities let a pig run free with a bell around its neck. Every house in the neighborhood fed him scraps and leftovers when they heard him approach. Once it had reached its desired weight, the pig was slaughtered, roasted and served to the less fortunate as il-ħanżira tal-erwieħ, which translates roughly as "the sow of souls"."
Cassar and his team are now bringing the traditions of the Month of the Dead to life in modern Malta. Heritage Malta is planning to host a dinner this year on 28 October. It will feature roast pig; maħluta, a bittersweet wine cocktail representing the joys and sorrows of life; and a kind of garlic bread, ftieti tal-għaża, it is eaten when families are in mourning. Most importantly, there will be għadam tal-mejtin, the Maltese bone-shaped biscuits, as a reminder that life is short, so might as well be sweet.
Għadam tal-Mejtin
Ingredients
For "the bone":
2 ⅓ cups butter at room temperature
4 cups flour
2 egg yolks
¾ cup sugar
¼ cup of water
1 teaspoon baking powder
1 teaspoon vanilla extract
white royal icing
Cardamom, to taste
Crushed pistachios, to taste
For the "marrow":
4 cups almond flour
1 ¼ cup sugar
1 ½ teaspoons of cardamom
½ teaspoon powdered cloves
1 teaspoon vanilla extract
2 egg whites
For the royal icing:
3 large egg whites
1 teaspoon vanilla extract
4 cups icing sugar
Instructions
To make the "bone", use a stand mixer to combine the butter and flour. Crack the eggs, saving the whites for later. Add the yolks and sugar to the mixer and mix. To ensure that the dough holds well, gradually add the water by the spoonful before adding the baking powder and vanilla extract. Cover and refrigerate for two hours or overnight.

In a separate large bowl, combine the almond flour with the sugar, cardamom, cloves and vanilla extract. Beat the egg whites to bind the mixture. Once this "marrow" dough can be formed into a ball, cover and refrigerate for two or hours or overnight.

Once the two doughs have cooled well, set the oven to 350°F. Roll out the "bone" dough with a rolling pin on a floured surface. It should be thin, but strong enough to wrap around the "marrow" dough.

Roll the "marrow" dough into a large cylinder and place it in the center of the "bone" dough. Wrap the "bone" dough around the "marrow" dough and roll it into a thinner tube shape. Cut into individual "bone" lengths, about four inches. Once the bones are rolled to the desired length and thickness, use your thumbs to mold each end into a bone shape.

Place on baking sheet, leaving room between cookies for some expansion. Bake for 25-30 minutes, when the edges of the bones turn golden brown. Remove from oven and transfer to a cooling rack.

Make royal icing. In a large bowl, combine egg whites and vanilla, whisking until fluffy. Gradually add icing sugar on low speed until fully incorporated. If using a stand mixer, increase speed and beat until mixture is glossy and forms stiff peaks. Spoon the frosting into a piping bag or plastic sandwich bag for piping.

When the cookies are completely cooled, pipe royal icing into a bone shape on each one. For spice lovers, sprinkle a little cardamom on each cookie for a touch of "earth" on the bone. A little crushed pistachio on the cookies gives an attractive finish.
Gastro Obscura covers the world's most wonderful foods and drinks.

Sign up for our email, delivered twice a week.
[ad_2]
Source link