James B. Sellinger, chancellor of education for the Catholic Schools Department of the Archdiocese of Baltimore for nearly eight years, will retire June 30, Archbishop William E. Lori announced May 2.
Sellinger was the Archdiocese first chancellor of educationtaking up his post after a 35-year career as an executive with IBM Corporation.
"Leading our Catholic schools through historic challenges, including a global shutdown due to COVID-19, Jim has helped steer increased enrollment and lead our students to academic achievements that have truly defied all odds," said said Bishop Lori.
The archbishop called Sellinger a "tireless advocate" for elementary and secondary schools in the archdiocese, noting that the chancellor has asked Annapolis lawmakers to support the BOOST (Broadening Options and Opportunities for Students Today) scholarship program that helps children from low-income families to attend Catholic schools. and other nonpublic schools in Maryland.
As chancellor, Sellinger was charged with promoting enrollment and the financial health of the Catholic school system.
In an interview with the Catholic Review, Sellinger said he prides himself on taking a collaborative approach to leadership. He works closely with Dr. Donna Hargens, superintendent of Catholic schools, as well as associate superintendents and school board members in the archdiocese.
"It's not about me," Sellinger said. "I am just an individual. The team has done a phenomenal job working with our (school presidents and principals) to support and develop our Catholic schools over the past eight years.
Total enrollment has increased significantly in recent years and now stands at approximately 16,500 students. Sellinger, however, acknowledged that some schools had to be closed during his tenure due to financial difficulties, declining enrollment or other challenges.
"Nobody likes to close schools," he said, "but as Archbishop Lori and I discussed, sometimes you have to get smaller to get bigger. You affect a lot of people's lives when you're closing schools, and it's an emotional loss for everyone. I think we've done a good job of making sure that our families affected by school closures (that they) have the opportunity to work together with us to attend other Catholic schools.
One of the highlights of Sellinger's tenure was the opening of the $24 million Mother Mary Lange Catholic School in West Baltimore in 2021, the first Catholic school built in the city in 60 years. Archbishop Lori said Sellinger's "vision, commitment and effective fundraising" were "essential" in the development of the 65,000 square foot school.
"The school has opened up more than academic pathways for students," the Archbishop said. "Rising from an underinvested community in West Baltimore, the school brings hope, faith and opportunity to long-deserving families."
Sellinger helped guide school policies in the Archdiocese related to COVID-19 protocols, working with the Archbishop and with civic and public health experts. He was a driving force behind the reopening of Catholic schools for in-person learning in the 2020-21 school year, at a time when other school systems were not doing so.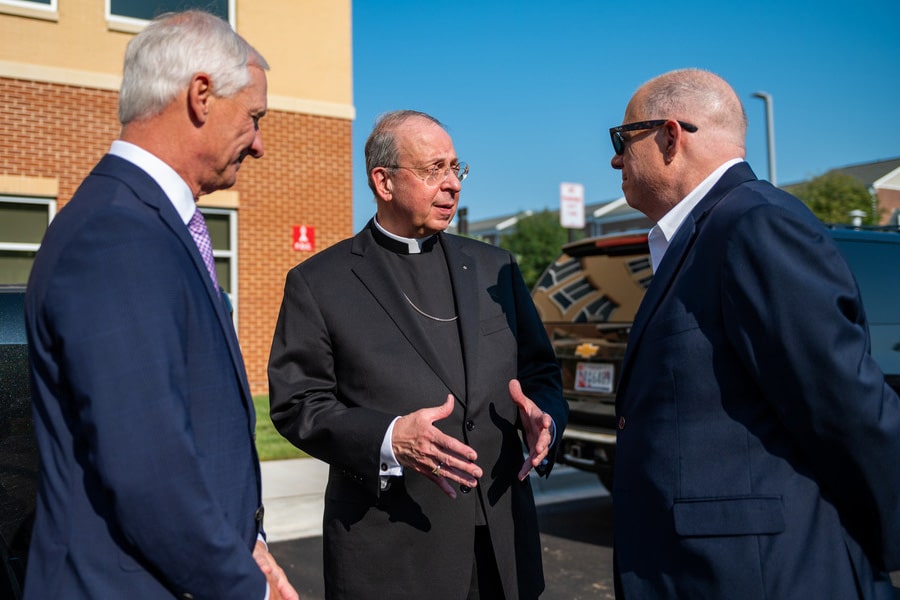 "We have wonderful faculty and staff who have answered the call to return to the classroom," said Sellinger, a parishioner at Mary Our Queen in Homeland Cathedral.
When COVID-19 positivity cases declined sharply in the 2021-22 school year, the Archdiocese lifted the mask mandate in Catholic schools in jurisdictions that allowed it. The archbishop noted that Sellinger implored the mayor of Baltimore to "join other jurisdictions in Maryland in advocating for parental choice when it comes to wearing masks in our schools."
Born in Cincinnati and raised in St. Louis, Sellinger is the youngest of nine children and the son of Francis J. Sellinger, master brewer and general manager of Schlitz Brewing Company. Her uncle was Jesuit Father Joseph Sellinger, former president of what is now Loyola University of Maryland in Baltimore.
Sellinger told the Catholic Review that he and his wife look forward to spending more time with their three children and six grandchildren. He noted that he came out of retirement to work for the Archdiocese of Baltimore. He has spent his entire professional life with IBM and the Archdiocese.
"In the business world, it's been a lot of years," Sellinger, 66, said. "Now we have the opportunity to smell the roses a bit."
The archbishop said the archdiocese will conduct a nationwide search to find Sellinger's successor.
"I strongly believe that our schools are well positioned for the future with Dr. Hargens in place," Sellinger said. "I know my successor will work with Dr Hargens to continue to move the ball up the field."
Email George Matysek at [email protected]
Copyright © 2022 Catholic Review Media

To print