In my parish there is only one mass in English, so we have almost the same faces every Sunday. Our tradition is to invite everyone to have breakfast together afterwards at a local restaurant. Therefore, we have developed a unique camaraderie.
Ours is a tourist town, so we have many restaurants nearby. We try to go to a different one every Sunday so we can expand our customer base. Depending on the season, we will welcome from 4 to 25 people for breakfast.
Welcomed, ignored or rejected?
In previous parishes, I often felt like a perpetual stranger. Sometimes I was too committed elsewhere to have time for religious organizations, which explains part of it. However, other times I tried to get involved but felt rejected.
A friend told me that she was an usher in her city church for thirteen years, but no one even said "hello" to her. Looks like my old neighborhood in Houston. Maybe it's just a problem with city life.
In a rural parish, I don't think anyone can walk in and out of mass without being noticed or approached! Someone has to say, "I don't think we've met. Are you New?" Followed by: "Are you related to X?" "Have you met Y? "Do you want to join our group Z?"
It's like the parish where my daughter once lived. The congregation was half black and half white. They had all known each other forever. If you were a foreigner, someone made sure to welcome you.
There, the peace sign took a good five minutes as everyone walked around with greetings. It was the most hugging parish I have ever known! It may have been urban, but it was in a distinct neighborhood with real history and a sense of community.
I have also attended masses where, during the greeting of peace, people were encouraged to introduce themselves as a means of getting to know each other. I noticed that only the most gregarious did. Everyone else just shook hands or nodded and said "Peace."
Unfortunately, people tend to be too reserved or snobby to greet a stranger easily. Some think that such exchanges are not appropriate for the church. However, what better place to love and get to know your neighbor?
A parish I attended asked newcomers and visitors to stand up, introduce themselves, and say where they lived. It was really interesting to learn who you were hosting each week! All received a small souvenir and were invited to return.
This practice also worked to remind long-time parishioners that they themselves, as individuals, needed to welcome new parishioners and help them feel included. When it comes to joining anything, people like to be asked and appreciated.
In a parish, I did my best to get involved, but as a single mother, the pastor and the ruling clique did not see a role for me in parish organizations. It was as if my "type" only belonged to a support group, which was outside of their area of ​​expertise.
Parishes really need to be careful about the image they project. The welcome mat should be out for everyone. It is impossible to be everything to everyone, but parishes should offer as wide a range of services as possible.
I recently read the story of a man who went through quite a transformation to become a Catholic. Despite his sincere yearning for the faith, soon after and for about ten years he barely attended mass because he felt so excluded and alone in church.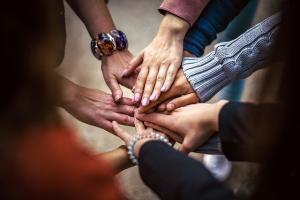 Identity and Catholic ties
Catholics cannot risk having this effect on each other. With anti-Catholicism rampant again, we need each other badly. We should rejoice in our fellowship and the wonder of Catholicism.
In previous blogs, I've written about maintaining a Catholic identity in a secular culture, following Catholic traditions, and having Catholic books, magazines, and items in the home. Strengthening this identity is essential to maintaining the relevance of the Church in your life. https://www.patheos.com/blogs/musingsfromthepew/2021/09/catholic-identity-versus-a-secularized-environment/
If you also have a group of Catholic friends or belong to a Catholic organization, you further strengthen your bond with the Church, as you are likely to share views on Catholic issues. It's amazing how much you learn and are strengthened this way.
My breakfast group, after exchanging gossip and news of course, could discuss Church business. Lately we have come to realize that our group has reaffirmed not only our place in the Catholic family, but also our family relationship with one another.
A restaurant breakfast is not feasible for most Mass attendees, but the coffee and donuts or parish hall breakfast that many parishes offer can accomplish much of the same bonding goal. . Take advantage of this opening. Be Catholic. Be family.