[ad_1]
Our Gallic siblings have embraced technology with a traditional twist.
A colleague from Aleteia recently visited me in Paris, and when we attended a local French Catholic mass, we had a bit of a shock.
The church of Sainte Marie des Batignolles was full of faithful, young and old. There were so many young children supervised and cared for by their fathers as well as their mothers. The music gave us goosebumps and the priest, Fr. Alain-Christian, addressed the assembly with warmth and joy.
However, as we were enveloped in the charms and beauty of the Mass, another detail caught our attention: in addition to the regular baskets of offerings that were passed around, there was another basket that seemed a bit out of place.
In this particular little wicker basket was a machine for making card payments. It has been underpinned to make it easy to use. While this seemed like a stroke of genius to us, it also felt a little weird at the same time.
My colleague and I discussed this after Mass and agreed that it was great to see the Church adapting to changes in the way society uses money. We also liked that the payment option was an integral part of the offertory, not just a machine in the back of the church for donations before or after mass.
But there was also something else I loved about using the basket. It was symbolic to use a vessel that could easily have been woven centuries ago. It was maintaining a touch of tradition that is important to the liturgy and so reassuring in our ever-changing world.
And if there is something else to remember from our little French experience, it is the joy of going to a new church wherever we are in the world. From hearing Mass in a foreign language (even though it often sounds so familiar with our emphatic "Amens") to seeing cultural differences across the world, Catholicism is a unifying force.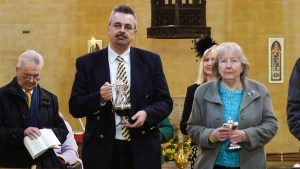 [ad_2]
Source link